Unit 704
Chevrolet - 1970
Unit 704 is a 1970 Chevrolet 4X4 equipped with 250 gallon tank and 300 gpm pump. Used primarily for brush fires and occasional traffic details. Every department has one of these "old standbys".
Unit 702
Pierce Lance - 1998
Unit 702 is a 1998 Pierce Lance Pumper/Tanker. Unit carries 2000 gallons of water, 55 gallon foam system, 2000 gpm pump and carries a crew of 5 with (4) 4500psi SCBA jump seats. Unit is equipped with 1000gpm deck gun, 2-1/2 inch Blitz Fire portable deck gun, (4) 200ft 2 inch pre-connect attack lines and 1000ft 4 inch supply line. This is the first out on all structure fires.
Unit 703
Pierce - 1982
Unit 703 is a 1982 Pierce Pumper/Tanker on a Ford Louisville chassis, is equipped with 1500 gpm pump and carries 2000 gallons of water, 2400ft 4 inch supply line, 2-1/2 inch and 1-1/2 inch pre-connect attack lines.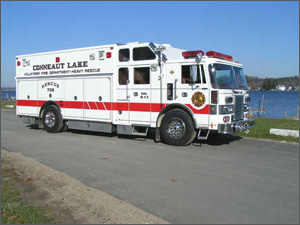 Unit 708
Pierce - 1990
Unit 708 is a 1990 Pierce Walk-in Heavy Rescue features an 8 man cab with (4) 4500psi SCBA seats, 350GPM Waterous pump, 300 gallon water tank, 20 gallon foam tank, 35KW PTO generator, 4 electric reels with 200ft cable, light tower with 6000 watts of light and video camera, (4) 1500 watt pole lights, Air Bank Cascade system with (4) 6000PSI cylinders, ...
Unit 714
Chevrolet - 3500 2005
Unit 714 is a 2005 Chevrolet 3500 4X4 crew cab utility vehicle. Unit used for firefighter transport, traffic control and boat transport. Used at fire & rescue scenes for equipment retrieval and transport.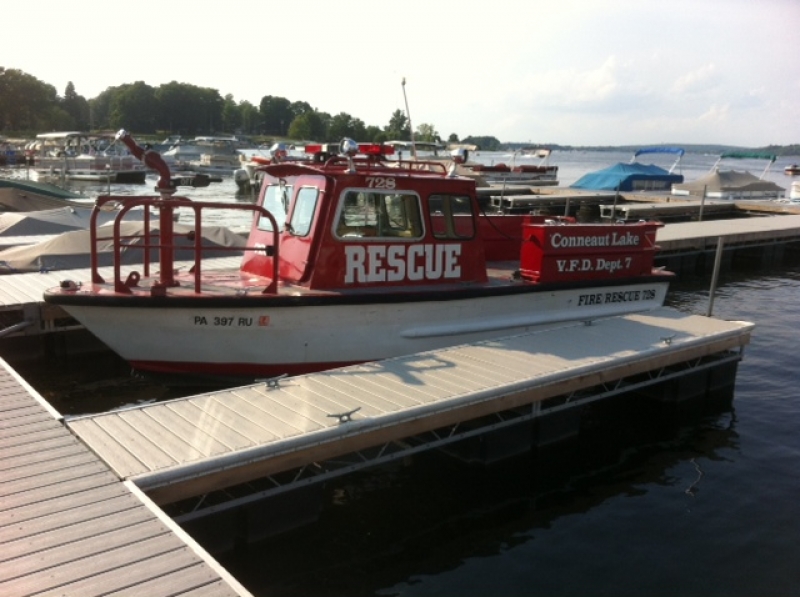 728
MonArk 2408-V - 1981
728 was obtained in June 2012 from Dearborn County Water Rescue located in Lawrenceburg Indiana. When new, it was used by the Cincinnati Ohio Fire Department and was known as Boat 18. It is powered by two Mercury Model 470 4 cylinder I/O engines with a third 470 engine used to power the 1000 GPM pump located mid-ship. Water can be flowed through two side 2 1/2 discharges or deck gun.